David
Program Goals
To strengthen his processing skills, coach him on executive functioning behaviors, teach him evidence-based memory techniques & strategies and build his metacognition, so that he can become an aware and effective learner.
"He now is able to answer complex questions and maintain topics during conversation. These were areas of difficulty before."
"These gains have made a remarkable difference in David's quality of life and his ability to interact with peers and adults. This program is exactly what he needed because it is so customized and has evolved with him."
"These gains are more impressive when we consider that the scores measure progress against peers. Without intervention the initial large gap between my son and his typical peers would have only grown over time as children make rapid cognitive gains during the key formative years of their lives. I am very impressed. These results are wonderful."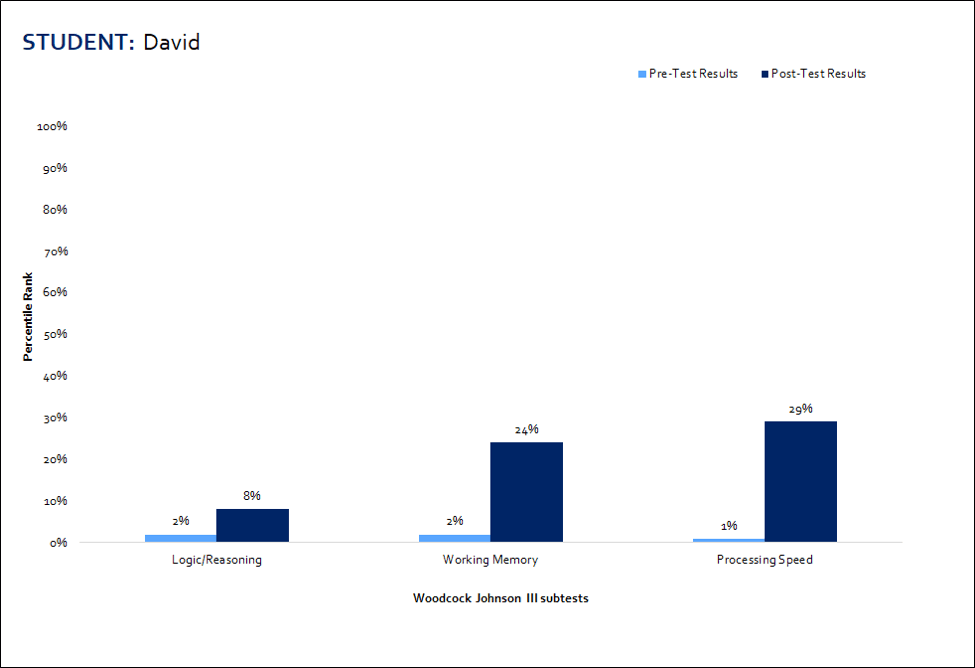 Profile
David is a friendly and eager to please young man with Pervasive Developmental Disorder, Not Otherwise Specified (PDD-NOS). His interests include business cards, planes, and different languages.
He struggles with behaving appropriately in social situations, regulating his emotions, as well as in cognitive areas such as using language, making sense of information, focusing and problem-solving. His program involved enhancing his processing skills, executive functioning, memory, and metacognition.
Her assessment revealed above average scores in all areas, except for long-term memory. Her program focused exclusively on teaching, training and transferring evidence-based memory techniques and strategies.
Aproach
Outcomes